The Orin Shop
The Orin Shop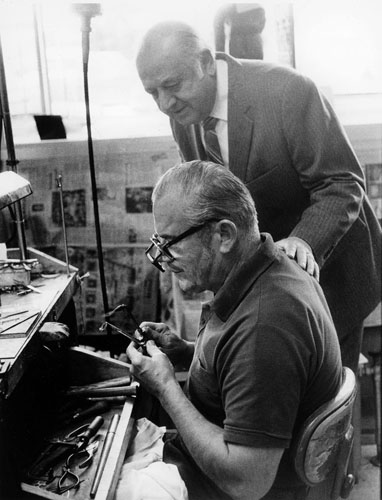 Repair Services Offered
• Ring Sizing
• Ring Soldering
• Clasp Repair or Replacement
• Chain Repair
• Gemstone Setting
• Prong & Channel Repair
• Rhodium and Gold Plating
• Pearl Restringing
• Engraving
• Antiquing
• Gemstone Cutting and Polishing
• Surface Finishes such as Sandblasting and Hammering
• Watch Repair, Refurbishing, and Battery Replacement
The majority of repairs from Orin's Shop are guaranteed for one year unless otherwise noted. This is not offered on bead or pearl restringing or watch repairs. If recommended work is refused at the time of evaluation, there is no guarantee against future damage or breaking.
This is a small list of our Jewelry Repair Services.
In addition, we love piercing ears and being a part of that monumental experience! Call us to make an appointment!
If you would like additional information, please call our Garden City Showroom at (734) 422-7030, our Northville showroom at (248) 349-6940, or on our contact page.
Our Legendary Shop
Since our founder, Orin J. Mazzoni, Sr. built his first shop in the 1930's, our attention to the smallest details of fine
craftsmanship have been our goal. We are proud to be known as having one of the finest Jewelry Repair Departments in the country, and our jewelers take great pride in going above and beyond your expectations.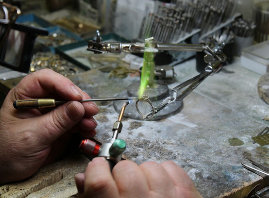 This philosophy has been the backbone of our success. Orin Sr. started as a young boy repairing watches, and progressed from watch repair to repairing all types of fine jewelry. Our continuous dedication to superior quality jewelry repair is what keeps our customers coming back.
We can rebuild your wedding set, remount your existing gemstones, repair the worn and damaged prongs of your rings, or even refurbish your antique jewelry. We are one of the few old time jewelers left in the country that will repair just about any item.
Cleaning and Inspection
We recommend having your fine jewelry cleaned and inspected at least twice a year. A good way to remember are special occasions, holidays, and celebrations. It's the perfect time to have your jewelry polished and shining like brand new!
At Orin's, cleaning and inspection is complimentary, performed regularly at both of our showrooms, with no appointment necessary. We help our customers with thousands of repairs each year.
In addition to keeping your jewelry shining brightly, it helps save you money. We are well trained to spot loose gemstones, worn or bent prongs, and any other special circumstances that may be a concern to the integrity of your most prized possessions. Regular inspection and maintenance helps in preventing major restoration repairs and minimizes your risks of gemstones falling out of your settings.
Our Process, Your Security
You can visit our showroom anytime to have your jewelry inspected for repair. Our jewelers exercise the same care whether your jewelry is worth $5.00 or $50,000, because we know it has a priceless sentimental value.
We insure all of our customer's jewelry while it's in our care, and we keep it safely locked in our safes at night. In addition to a detailed description, your jewelry is photographed as part of the documentation you receive when you leave your items in our trust. All diamonds a quarter carat (.25ct) and larger are carefully diagrammed under a GIA microscope and shown to you before you leave, as well as when you pick it up. This is our way of showing you our professionalism and care for your most prized possessions.
The vast majority of repairs are performed at our Garden City location. To promote efficiency and cost savings to our customers, repairs are not performed while you wait; however, in some instances, appointments can be made for Express Service for a nominal additional charge.
Watch Repair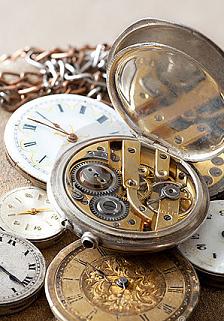 Orin Jewelers offers many services on watches including repair, refurbishing, and cleaning. Your precious timepieces are sent to the best watchmakers available for service. While you wait, we can
size bands and change batteries on most timepieces, and we offer a great selection of new watchbands in stainless steel and leather.
If a battery doesn't do the trick, it may be time to have your watch overhauled. This is a process that involves an in-depth cleaning on the inside of your watch. All watches need this thorough attention: from the finest timepieces to the most basic. This type of service can only be performed by a watch repair specialist. We can also assist you with crystal replacement, pressure sealing for diving watches, crown and stem repair, movement replacement, and any other care your watch may need.