Appraisals & Insurance Replacements
Appraisals & Insurance Replacements
Professional Jewelry Appraisals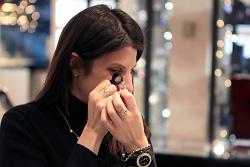 Orin Jewelers specializes in Jewelry Insurance Replacement Appraisals, Estate Appraisals, and Gemstone Identification. We take great pride in our knowledge of appraisal evaluation.
A jewelry insurance appraisal is the determination of an item's value based on careful examination and market research. It is an informed opinion as to the authenticity, quality, design and value of a piece of jewelry. The opinion is backed by training, experience, and gemological equipment.
It is important to protect your most important fine jewelry items from loss, theft, and damage. Most insurance companies require a formal appraisal to properly insure a piece of jewelry.
As with all items left in our care, we review identifying characteristics of your items under a GIA microscope. Your items are insured while in our possession, and safely locked away in our safes each night.
As recommended by the American Gem Society, the cost of the appraisal is not linked to the value of the item, and only flat rate fees are charged. This is extremely important as the value determination of your items are not dependent upon what we charge for the appraisal.
Pricing & Additional Value:
• A complimentary appraisal is offered on all items purchased at Orin Jewelers on values of $1000 or more, or upon request.
• As part of the appraisal process, Orin Jewelers offers complimentary cleaning and polishing of your jewelry to restore it to its like-new beauty.
• Appraisals start at $80 for the first item, $50 for each additional item.
• Additional charges apply for larger size diamonds or colored gemstones over 1 carat.
• Other charges may apply for intricate designs, a large number of varied gemstones, timepieces, or research that is above and beyond an ordinary appraisal.
• Special pricing available for appraisal updates when the original appraisal was prepared at Orin Jewelers.
In some cases, an appointment can be made and information for an appraisal can be collected while you wait; however, if you would like more information regarding jewelry appraisals, please call our Garden City Showroom at (734) 422-7030, our Northville showroom at (248) 349-6940, or on our contact page.
Insurance Replacements
What should you do if you have an insurance claim such as a loss, theft, mysterious disappearence, or chipped gemstone?
Orin Jewelers offers insurance replacement services. First, contact your insurance agent and let them know about your loss, and that you would like to have your item(s) replaced at Orin Jewelers.
Our replacement department will need information such as a claim number, the insured value of the item being replaced, pictures if possible, and any other information the insurance company may need to make the process as smooth as possible for you.
Our insurance specialist will work closely with you and your insurance agent to find the best replacement item available. Once approved, you will absolutely have a final say in the completion process and choosing your replacement item. If for example, a diamond is being replaced, you will have multiple options to choose from.
We are here to make sure you receive the best replacement available. In many cases, you may even be able to pick out something entirely new or upgrade.
Orin Jewelers works with most insurance companies, including:
• Jewelers Mutual
• State Farm
• AAA
• Farmers
• And many others
If you have additional questions about Insurance Replacement, or if you would like Orin Jewelers to be your preferred jeweler, please contact Matt Tatro at (734) 422-7030 or on our contact page.