Custom Design
Custom Design
At Orin's, our superior jewelry designers have the creativity and experience to beautifully create the jewelry item of your dreams.
Whether it's a unique bridal engagement ring, or an unusual drop necklace to place your favorite gemstone in, our custom design center is second to none.
We have a full service design center right on the premises where we create our own unique designs. Some of our favorite things include taking your design ideas and bringing them to life. You can be your own jewelry fashion designer!
Reshaping Your Jewelry
If you would rather have us craft your unworn jewelry into something new, we can help you reshape your jewelry into something that you will treasure forever. We can give your special piece of jewelry a brand new purpose, while maintaining its sentimental value, especially if it has been in your family for many generations.
Feel free to contact us anytime to discuss putting your creative ideas into a piece of unique and cherished art. We use only the finest and purest of materials, and we take great pride in working with you to bring that special piece to life!
If you would like more information regarding your jewelry designs, please call our Garden City Showroom at (734) 422-7030, our Northville showroom at (248) 349-6940, or on our contact page.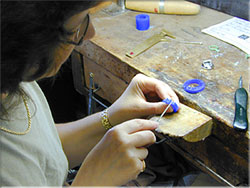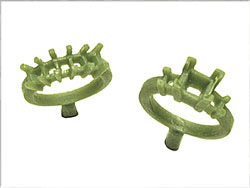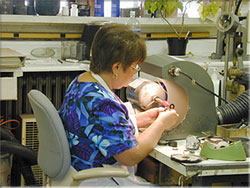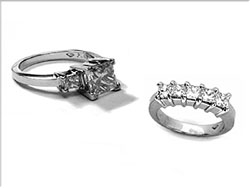 Masterpieces of Orin's
The owl necklace below was created and designed by Mark Schneider in collaboration with Orin Jewelers for one of our customers.
Joyce brought in her deceased husband's wedding band and tie tack to have them made into something. We designed a pendant that can use both pieces! Joyce and her friend came to pick up her new piece and fell in love with it!

We were so happy to make a Joyce a unique, sentimental piece in honor of her husband.

Pamela came into our Northville Store and needed to find something to match her beautiful necklace for a wedding. We custom designed a one-of-kind pair of sapphire & diamond earrings! We are so happy Pamela fell in love with them!!