The jewelry inspired by Sharing the Rough
The jewelry inspired by Sharing the Rough
Posted on Wednesday, August 29th, 2018 at 3:57 pm by Megan

Orin Jewelers is excited to present a complimentary showing of "Sharing the Rough"! Please join us at the Marquis Theatre on September 13th at 6:00 for a complimentary showing of the documentary! Complimentary tickets are available in our showrooms or print them off at home by clicking HERE! (Ticket not needed for entry).
"Sharing the Rough" is a documentary created by Orin Jr.'s son, Orin J. Mazzoni, III and he tells the story of a gemstone: from the hands of the Miners who bring these treasures to the surface, to the Gem Cutter who breathes life into the rough stone, to the Designer who accentuates the beauty of the gem through precious metals. 'Sharing the Rough' encapsulates the passion and beauty of one of nature's most precious gifts, weaving together the remarkable journey of all the hands that share in the creation of a piece that will be treasured for generations.
PLUS! Join us in our Northville Showroom for an after party following the show! Meet the director of the film and view the stunning collection of jewelry that was inspired by the documentary!
We hope you can join us for a night full of beautiful gemstones!
Special Showings of the jewelry collection inspired by the documentary:
Northville Showroom: September 13 - 18
Garden City Showroom: September 19 - 22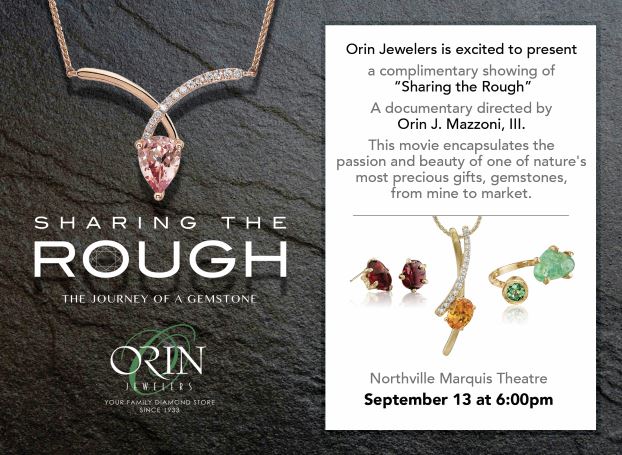 "Sharing the Rough" Jewelry Collection by Parlé from Orin Mazzoni on Vimeo.