Show Santa How It's Done: Sparkle with 6...
Show Santa How It's Done: Sparkle with 6 Looks under $600
Posted on Thursday, December 8th, 2016 at 11:52 am by Rachel
Christmas is coming and you want a fantastic gift to put under the tree. We're here to make sure that happens! We gave our team a budget of $600 and asked them what they'd recommend as a gift for the lady who:
Always Makes You Smile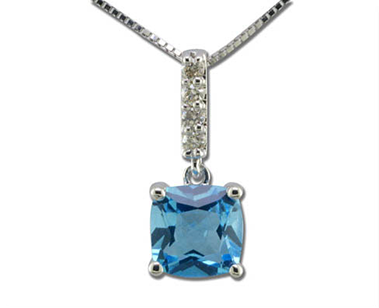 Modern and magnificent, this 14K White Gold Pendant features a cushion Blue Topaz the color of the summer sky. Expert faceting means this pendant catches and reflects light beautifully – almost as much as her eyes will sparkle when she opens the Orin's jewelry box and sees this! Blue Topaz is said to strengthen love and encourage creativity. Style #: 002-230-3870 is $495.
Loves To Dance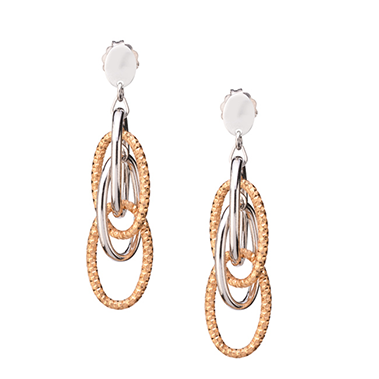 These 14k Gold Plated and Sterling Silver Twisted Hoop Earrings are the perfect size to wear dancing. They're fun, classy, and easy to wear: fancy enough for a night out on the town, yet absolutely appropriate for the office. Don't be surprised if these turn out to be her favorite pair of earrings ever! Style # 002-610-4461 costs only $195. If you like the idea of giving gold earrings but aren't in love with this particular pair, come on in: we have a wide selection of gold earrings at this price point, and our team would be happy to show you what all of your choices are.
Collects Pretty Things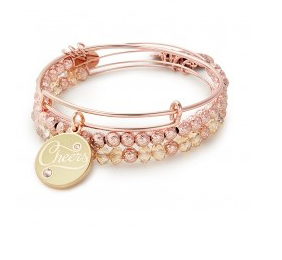 It turns out that Alex and Ani's popular charm bracelets are like potato chips: no one wants just one. Start or add to a beautiful collection with this trio. This look includes Color Infusion and Champagne Expandable wire bracelets; the "Cheers" charm is the perfect expression of holiday spirit. Great as a Christmas gift as well as on New Year's Eve! Style # 001-625-20355 is $98; other Alex and Ani looks start as low as $28!
Appreciates The Classics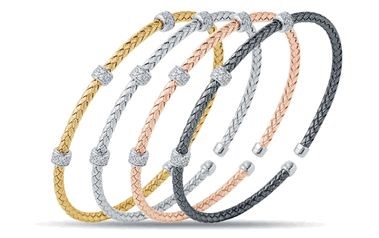 If she loves the classics, these fresh, modern takes on classic gold bangles will be the best addition to her jewelry wardrobe you could make! These items make great gifts for ladies who appreciate the unique and one of a kind. Classic styles and traditional workmanship give Charles Garnier jewelry appeal that lasts for generations – with just enough of a trendy touch that it makes her feel special. These bracelets start at $175.
Shines Under Pressure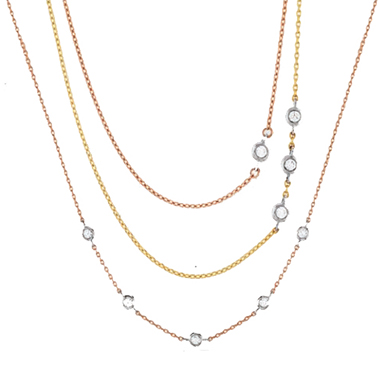 You never have to stop giving her diamonds. The world's most perfectly cut diamonds come from Hearts on Fire. These trendy offset style necklaces feature one, three, or five diamonds in today's very fashionable 18K gold. It's a simple design that looks truly stunning on. Item # 002-165-00190 with three diamonds costs only $550! She'll shine at the office and when she's out with you.
Is Your Sunshine
If she's the center of your universe, let her know. This gorgeous sterling silver ring featuring a warm yellow citrine is by Colore, one of Garden City's favorite designers. Bold, confident style and exquisite craftsmanship take this ring to the next level. Very wearable and attention grabbing. Style 002-615-01224 is $425 for a limited time.
Can't Find What You're Looking For?
Our showcases are full to overflowing with fantastic holiday gifts. Come on in and let our staff know who you're buying for. We'll ask you some questions about her style and favorite colors, and then, based on what you've told us, help you find a gift that will take her breath away. We've been doing this for three generations, so we're pretty good at it – and there's nothing we love more than putting smiles on peoples' faces for the holidays!