On Being Santa: Being the Man of Her Dream...
On Being Santa: Being the Man of Her Dreams Means Being Reliable AND Exciting
Posted on Wednesday, December 14th, 2016 at 3:01 pm by Rachel
When you're in love, you want to do everything you can to keep your special someone happy. At the holiday season, that means wonderful gifts. One of the benefits of long term love is that couples get comfortable with each other – but if your gift giving gets into a comfortable routine, your sweetheart can wind up less than thrilled.
One way to make sure that doesn't happen is to choose this year's gift from today's newest looks. You know what type of jewelry you've already given her, including the pieces she wears every day or on a regular basis. Keep that in mind as a starting point when making your choice; you may want to pick a gift with a similar style or choose something boldly different. The odds are actually pretty good that if you think the jewelry is beautiful, she will too.
Here are some of the top holiday jewelry trends you'll want to know about when you go shopping for her gift:
Think Pink – Morganite Jewelry by Makur
In 2016, Rose Quartz – a shade of pink – was named Pantone's Color of the Year. Fashion went wild because a lot of women really enjoy wearing this color. Morganite is the ideal pink gemstone, found in Brazil, the Middle East, and East Africa. Makur has some of the best Morganite designs out there. Most popular has been the suite of oval Morganite and diamond pieces – there's a lovely necklace, earring, and ring; you could give all three, or choose your favorite.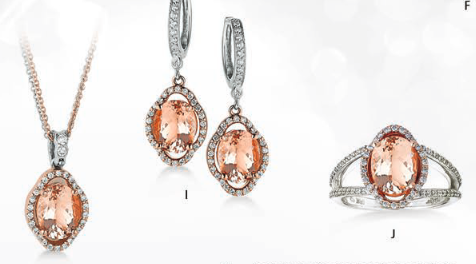 The Right Hand Diamond Ring
While diamond rings bought for the left hand tend to have at least one large, pricey diamond, right hand diamond rings showcase smaller, more affordable stones in quantity. The result is a fun, festive look that's guaranteed to put a smile on her face. There are some really creative right hand diamond rings in our showcases right now, including a star shaped ring that comes with a matching pendant and earrings for less than $2,000!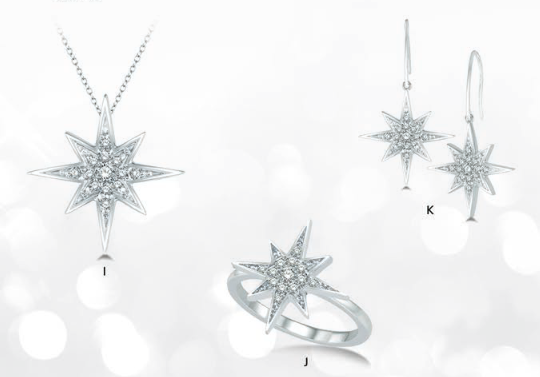 Here's another twist on the same look – great if she loves vintage style!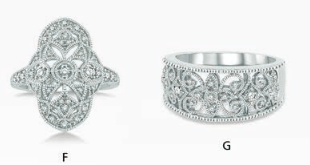 Charm Bracelets from Alex and Ani
Alex and Ani charm bracelets are the newest fashion staple. They're made right here in the USA, are extremely wearable, and are very reasonably priced – there are many, many looks you can get for less than $50. The cool thing here is that you can give a gift that's not just trendy, but can be extremely personally meaningful – there are so many charms to choose from that make it easy to say how you really feel.
Our staff loves the To The Moon and Back – it's so sweet and romantic. Best of all, every purchase also benefits Edesia, a non profit that's working hard to make sure kids all around the world have enough to eat. If that type of thing is important to your special someone, make sure to let her know: it adds an extra layer of cool to your gift.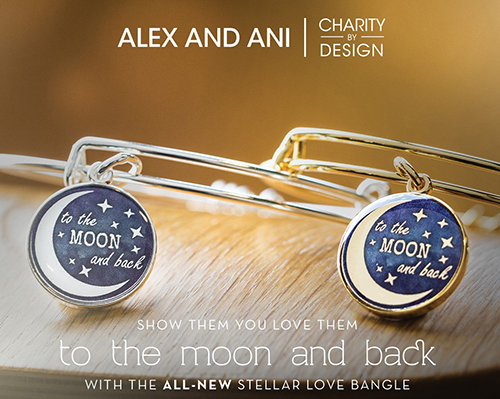 Check Out The Holiday Look Book
We've put together a Gift Book so you can browse the hottest looks and figure out what your sweetheart would like whenever it's convenient for you – you can read it on your phone when she's not looking! That's here: http://www.orinjewelers.com/ORINCUSTOMBOOK.pdf When you find what you'd like to get here, come on down to the store and we'll be happy to send it home with you in one of our famous green boxes. If you're in a hurry, give us a call first – we'll be happy to put the jewelry aside for you, ready for pickup!