Orin's Tradition
Orin's Tradition
Pride and loyalty to the consumer and commitment to the community is what gives
Orin Jewelers the opportunity to celebrate 85 years serving Metro Detroit.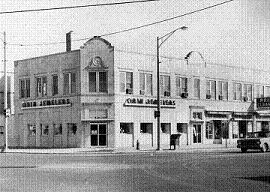 The beginning of Detroit's most trusted and respected jeweler began 85 years ago when Orin J. Mazzoni, Sr. opened his first store in Weirton, West Virginia in 1933. A watchmaker by trade, he devoted his younger years to building his reputation as a fine craftsmen, dedicated to quality work and superior service at a fair price. 85 years later, that reputation has carried over to Detroit, Michigan, becoming known as one of Detroit's finest jewelry stores.
In 1953, Orin and his wife Mary moved their family to Garden City, Michigan and opened Orin Jewelers. In the early years, the Mazzoni family lived right above the store and learned the family business from the "Bottom Up!" In 1965, the Mazzoni family moved to our current location just across the street, the Folker Building, which was originally a National Bank of Detroit and, later, Garden City's City Hall. Our second showroom in Downtown Northville opened in 1983. Orin's is celebrating over 30 years of business at the corner of Main Street and Center.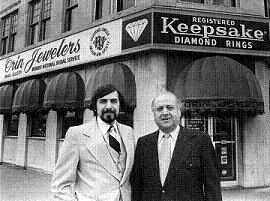 When Orin Sr. retired in 1969, Orin Jr. took over as president and CEO. Orin Jr.'s goal was to continue the same family traditions and ideals that were so important to his parents in serving the Metro Detroit Area. A family oriented atmosphere where people feel comfortable and welcome has been a mainstay ever since.
With the lifelong background in jewelry, Orin Jr. became a Graduate Gemologist of the Gemological Institute of America in 1977, which proved his love of gems and jewelry and desire to give his customers the highest knowledge possible when selecting a fine piece of jewelry. In 2014, Orin's daughter Antoinette joined the family business. She is currently studying for her Graduate Diamond certification through Gemological Institute of America's distance education program. This has truly given Orin Jewelers of Garden City and Northville the rare opportunity to call themselves a "third generation family business."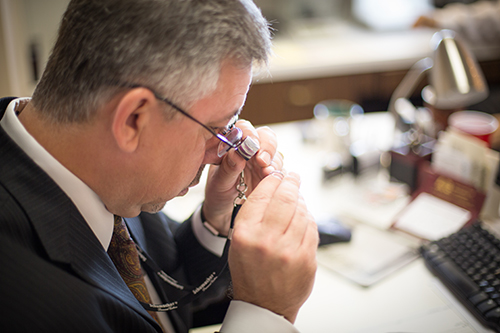 Commitment to Integrity
In today's times, it's important to have a jeweler you can trust. The heritage of Orin Jewelers and the Mazzoni family in Metro Detroit is what separates Orin's apart from the rest. Our continuous dedication to fine details and superior quality, and keeping our jewelry repair department second to none, is what keeps our customers coming back.
The Orin Jewelers team is committed to serving our customers like family. We are proud to work with generations of families in the Garden City, Northville, and Detroit community, in some cases celebrating engagements, weddings, anniversaries, births and birthdays that span four generations!
Our team is held to high standards of gemological knowledge in order to serve you at the highest possible level. They undergo recertification of their titles and recognitions with the American Gem Society on an annual basis to continue to adhere to the American Gem Society "Code of Ethics".
Our Mission Statement
To our Family, our Friends, our Customers,
The mission of Orin Jewelers is
to provide our customers fine quality jewelry,
true customer service, and superior jewelry repair,
all at affordable prices.
To have a friendly jewelry store,
a human store that places customer
satisfaction above all else.
A store where our customers can safely
recommend their friends and relatives and
be assured they will be thanked
for their recommendation.
To create a professional, knowledgeable,
and enjoyable atmosphere for our team that
enables us to put our customers first, working
towards the goal of their satisfaction.
To continue the ethical foundation and
dedication built by our founders in 1933,
Orin and Mary Mazzoni, Sr.